WR011: Sus & Carsten – Sange fra vrimmelen
Free downloadable album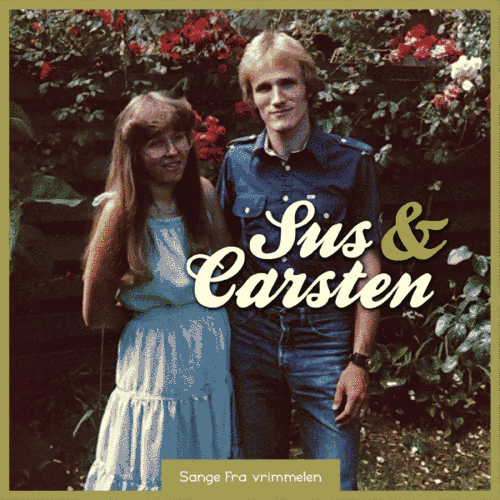 I have a strong and dear childhood memory of lying sick in my parents' bed in 1981 reading a specific comic book and listening to a certain cassette tape. The comic book was Henrik & Hagbart – Vikingernes ed and the tape I listened to was by friends of my parents, a pastor couple – Sus & Carsten Høyer. Something about the mostly minor chord-driven songs appealed to me and I listened to the tape over and over again.
Whilst studying theology in 1980 in Dallas, Texas, Sus & Carsten spent a summer holiday in Idaho. They had been invited by fellow students to stay in the mountains for the duration of the 5 to 6 week-long holiday. Here, the couple got to know the local congregation – a small village church in true western style: men wearing cowboy boots and cowboy hats. Amongst the people of the church were some country musicians who had a small home-studio. They offered to record Sus & Carsten's songs after hearing them sing at a few meetings. Sus & Carsten took up the offer and, without any use of studio musicians and with only simple recording equipment at hand, they recorded and later released a cassette tape of simple Christian songs in Danish – a cassette tape which I was to play on repeat the following year on my parent's stereo.
Several years passed until one day a few years ago when that old tape showed up again whilst I was going through some boxes of old stuff at my parents' house. Re-listening to those songs blew me right back to 1981 and I have continued to listen to them ever since. I have even managed to get hold of an original copy of that old comic book as well. Viva nostalgia!
However, re-releasing my favourite songs from Sus & Carsten's old tape is more than just me re-living my own childhood memories. Having now listened to these songs countless times, I am convinced that they, in all their Christian simplicity, do contain some musical qualities that should be of interest to others. Some (who understand Danish) may find the Jesus-centered lyrics naive and perhaps even offensive. I don't mind that. After all, Christianity does have some implied natural elements of naivety and offensiveness. However, no matter what one's spiritual observance (or lack thereof) I hope people will just enjoy a collection of well-written songs. Bear in mind that these recordings have been transferred from an old, almost worn-out, cassette tape. I have tried to improve the sound as best as I could.
Thanks to Sus & Carsten for letting me re-release a collection of their songs.
– Mikael R Andreasen, May 2010.